New York offers not only fabulous restaurants and fine dinning but also plenty of takeaway food, bakeries and  coffee shops. 
If you go to the right place, you will get very fresh takeaway food. That is one of the reason I enjoyed New York. 
I am a foodie person and the food in NYC is everywhere. Let's take a food tour with me.
This famous franchise caught my eyes immediately when I arrived to New York. They are famous also in Europe but I think I never noticed it before. 
I was impressed by their delicious baguettes, sandwiches, salads and matcha latte. 
They also have chia seed desserts and other stuff. You can just grab it as a takeaway or sit there. 
If you need to find a place to check the internet, Prett and Manager has wifi!
I wanted to test Maison Kayser bakery as I have read a few recommendations. As a kind of a foodie blogger I was very curious to check it out. 
The coffee was ok, but the foam wasn't as I am used to. However, they had amazing quiches. 
In addition, the croissants and baguettes looked so tempting. They prepare it all fresh. 
It is pricey, yes but delicious.
If you like Asian exotic flavours like matcha latte, taro cappuccino or ginger latte check this place. 
Apart from that, they have interesting cakes with these exotic flavours.
One of the healthy lifestyle place which offer large variety of salads, sandwiches. 
They also serves great coffee with honey and other drinks.

Waffles and Dinges in Bryant park
A popular place for waffles.  If you are interested in a food tour in NYC, they will take you to this place. 
I haven't tried any food tour as I made my own. 🙂
When I entered to the Market Crates it looked gorgeous. The place was full of fresh salads, sandwiches and soups. The smell was tempting. 
You can choose meal from their menu or make it your own. 
Le District is surrounded by several restaurants and cafes. A great place to either have lunch or dinner. 
It is healthy and tasty. I enjoyed a lunch here with amazing coffee and healthy salad.
Located near One World Trade Center. 
Do you prefer something different than a healthy food or sweets? 
Then go to famous Joe's Pizza. It is quite popular that you will wait a bit in a queue but it is quite fast.
One of the best takeaway pizza in New York.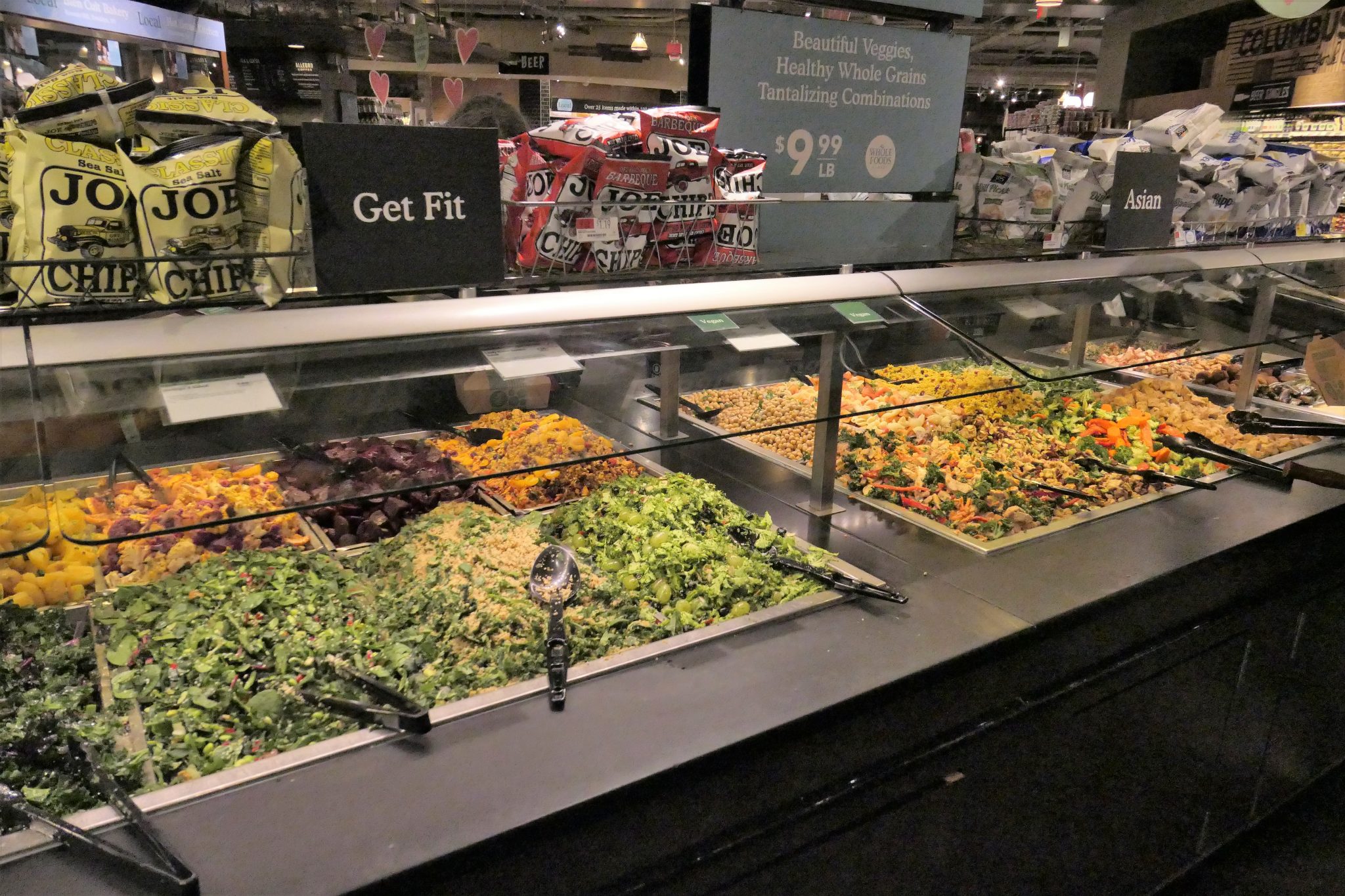 A shopping centre located near the Central Park. 
Once I entered, I was very impressed! 
You can create your own salad with plenty of choices to put in. You can also have American style pizza or grab amazing sushi. Apart from that they have nice sandwiches and wraps.
A place with freshly baked croissants and delicious coffee.