Diamond Sea Resort is an comfotable accommodation for people who like the feel of full enjoyment of luxury. This hotel offers luxury for a reasonable price. The best part of Diamond Sea Hotel is the pool and delicious breakfast. You will never find a hotel in Europe, the USA or Australia for this price and luxury together. 
The breakfast which is included was an absolutely incredible eating experience! You can find a large amount of choices from traditional Vietnamese meals to European style.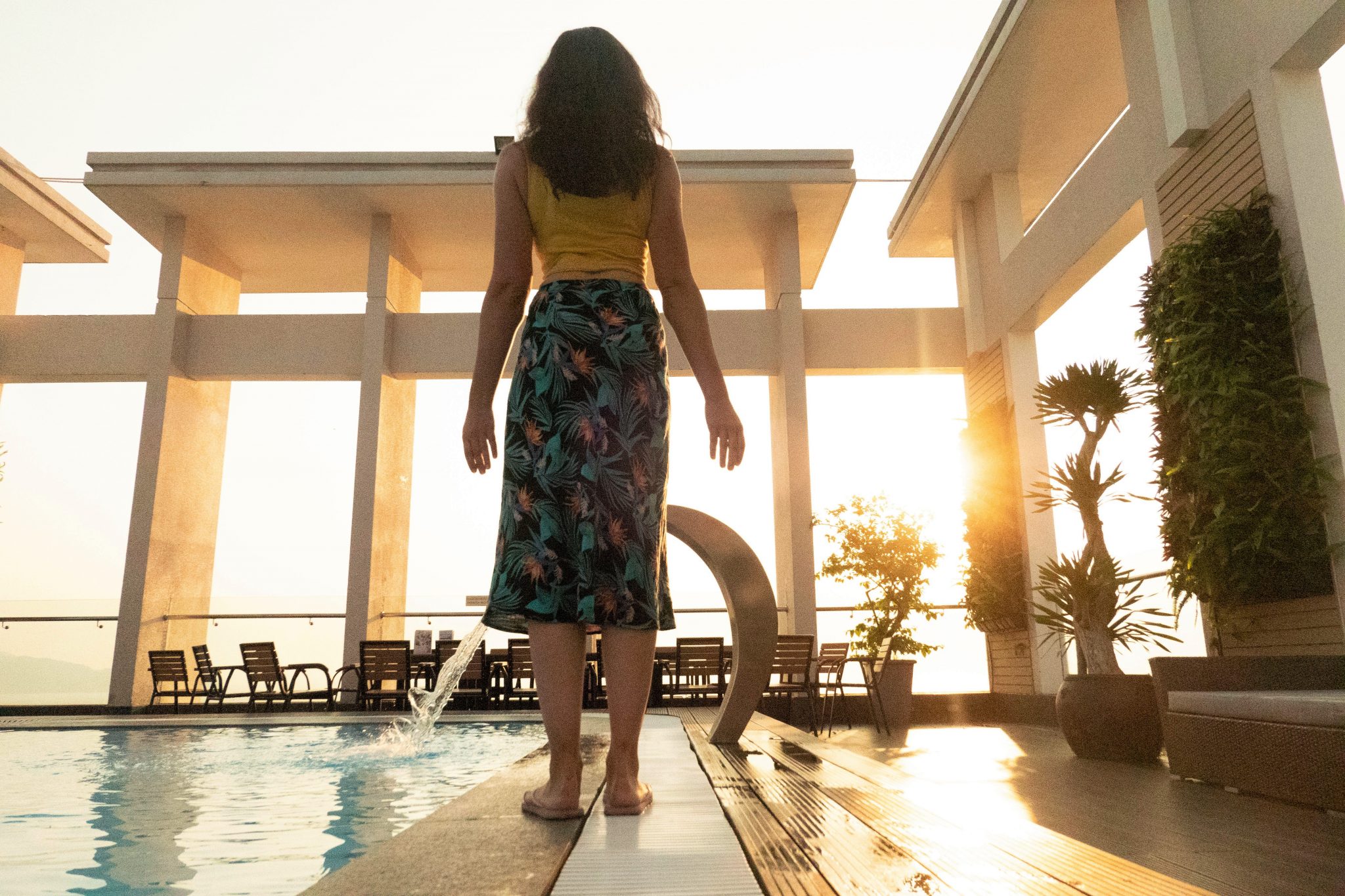 Hotel offers spa and rooftop outdoor swimming pool. You can see a breathtaking sunrise from here. Apart from that, the gym located on lower level has an incredible view too. 
Rooftop swimming pool and bar
Enjoy lunch from the pool after sunbathing on the beach. You can select sandwiches and western-style food. It is pricey but if you are hungry what can you do?  The sandwich looked simple but it tasted actually quite good.
Breakfast is included and it is just wonderful. If you love Vietnamese food you will find a variety of rice noodles, Vietnamese rolls, soups. In addition, you can have a sushi, croissants, toasts, brownies, cakes, yogurts, plenty of fruits, juices and off course coffee. My breakfast was always something like a brunch as it was so delicious that I wanted to taste almost everything.
A perfect way how to stay fit during your vacation. I loved the view whilst I was riding this spin bike. It will make you feel like you are riding in the sky. The gym is small but I would say a similar size to a standard hotel gyms. 
Right across the street is My Khe Beach with a magnificent view of the mountains. There are plenty of seafood restaurants around – those next to the beach are more expensive so if you want to save some money, go to those who are in the same street with the hotel. 
There is one restaurant right next to the hotel with great prices and fresh seafood. You can see fish , crabs and other sea creatures in aquariums from which they prepare it. It is not a luxury place fine dining place. You will be sitting outside on a plastic chair, however the price is a reasonable and the food taste nice.
The hotel room has a spectacular view. You can see the ocean from either partial view or you can select a direct ocean view. Either way you will see the stunning sunrise. In the evening you can enjoy the colourful sunset. There is also a locker in the room and coffee maker and other common facilities as usual.
Diamond Sea Hotel is an excellent choice for travellers who enjoys hotel by the sea and visiting Danang. 
By booking the hotel from this button I will get a small commission to support my blog. It will not cost you anything extra, and I am happy to share more info that you need for your trip to Vietnam.