Manhattan has a very rich variety of cuisine from all over the world so you can spend every day by trying different restaurants and not get bored. 
From traditional American restaurants to European and Asian cuisine, takeaways to fine dining. If you visit New York, don't just grab anything when you are hungry.


It would be a sin to omit this opportunity to try some fancy restaurant in one of the greatest cities in the world. Just make an effort and choose a place where can you enjoy not just for the atmosphere but also the taste of the delicious food. 
So don't stick with the "classic style" such as MC Donald, Starbucks, Subway or Apple Jack which is at every corner. 
Let me inspire you by my restaurant tips and choose your style you like.
Jams is a restaurant which is perfect for either breakfast, lunch or dinner. Recommended for all gourmands as their menu looks so delicious. 
The restaurant offer a rich variety of breakfast meals including eggs on toast, granola, sourdough with jam, cappuccino or variety of smoothies. 
The dinner option offers mouth-watering starters such as tuna poke, lobster fritters or mains – roasted long island duck breast or seared maine scallops and variety of cocktails. Yuums 🙂
location – 6th Avenue, New York, NY, 10019
Momosan – Japanese restaurant
The Momosan offers authentic Japanese cuisine for a reasonable price. I was making a research about Japanese restaurants in NYC and this one seemed like a great choice for price and quality so I decided to try it. 
The interior looks very stylish, their menu presents variety of noodles, sushi, and Japanese wines or cocktails. I love Japanese wines, they are nice and sweet. My meal choice was Momosan Ramen. 
Some tip for you – it looks like a soup but it is not! 🙂 The noodles are soaked in a special "sauce" which is fatty and it creates the authentic flavour for the meal. So just dip the noodles into the sauce and enjoy the taste.
Location – 342 Lexington Ave, New York, New York 10016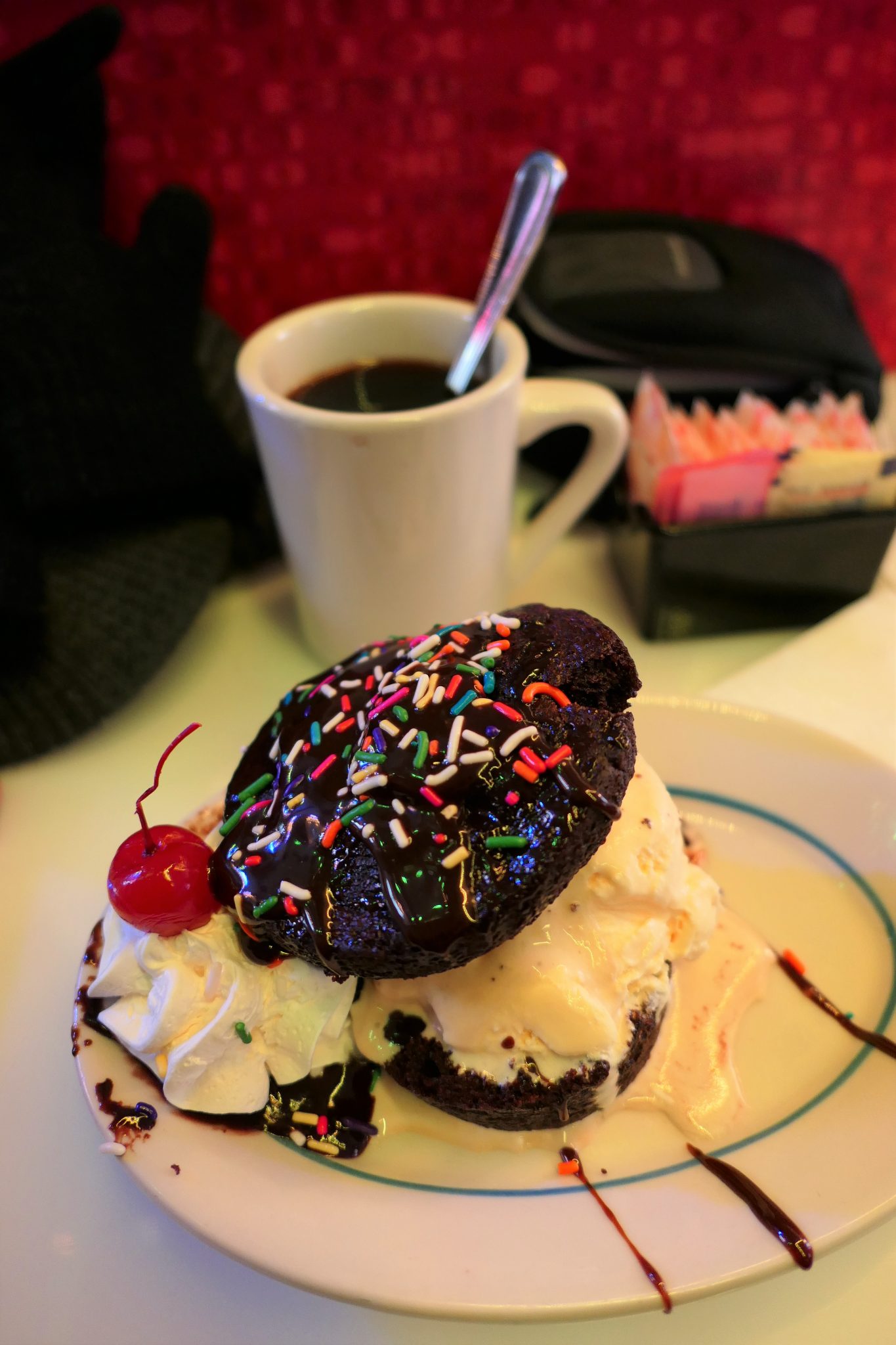 I would say that Ellen's Stardust is a traditional restaurant in an American style. It is designed in Retro style  with singing waitresses.  
All waitresses are professionals from Musical school.. While you will be eating, they will sing and walk on the table. If you visiting this place for a breakfast have a sweet cake, cheese cake, cookies with an ice cream or a milkshake. 
Be careful though – it is really a high caloric bomb!  If you are fan of savory breakfast, you can get eggs and bacon, omelets or a sandwich. 
For dinner option, select from burgers and chips, pork chops, chicken or classic Mac and cheese. 
The food wasn't exactly my style, but I was very curious about the atmosphere and I think it is cool to check it out. 🙂 If you go in the evening prepare for a very long queue outside.
Location – 1650 Broadway, New York City, NY 10019-6833
Le District is surrounded by few restaurants and Cafes. Perfect for either a lunch or dinner. It is located near One World Trade Centre. 
I enjoyed this place for a lunch, having coffee and healthy salad. Stylish, modern with design of healthy lifestyle. I love this style. 🙂 
Location – 225 Liberty Street, New York, NY, 10281
Eataly is a place with authentic Italian cuisine. Part is like a shop with coffee and all Italian food – cheese, pastas, olive oils or sweets. 
When you walk further there is a dinning area. Obviously try some pizza or pasta.:-) Check more info in my detailed post "Eataly experience in NYC Flatiron".
Location – NYC Flatiron – 175 5th Ave, New York, NY 10010, USA , NYC Downtown – 4, World Trade Center, 101 Liberty Street, Floor 3, New York, NY 10007, United States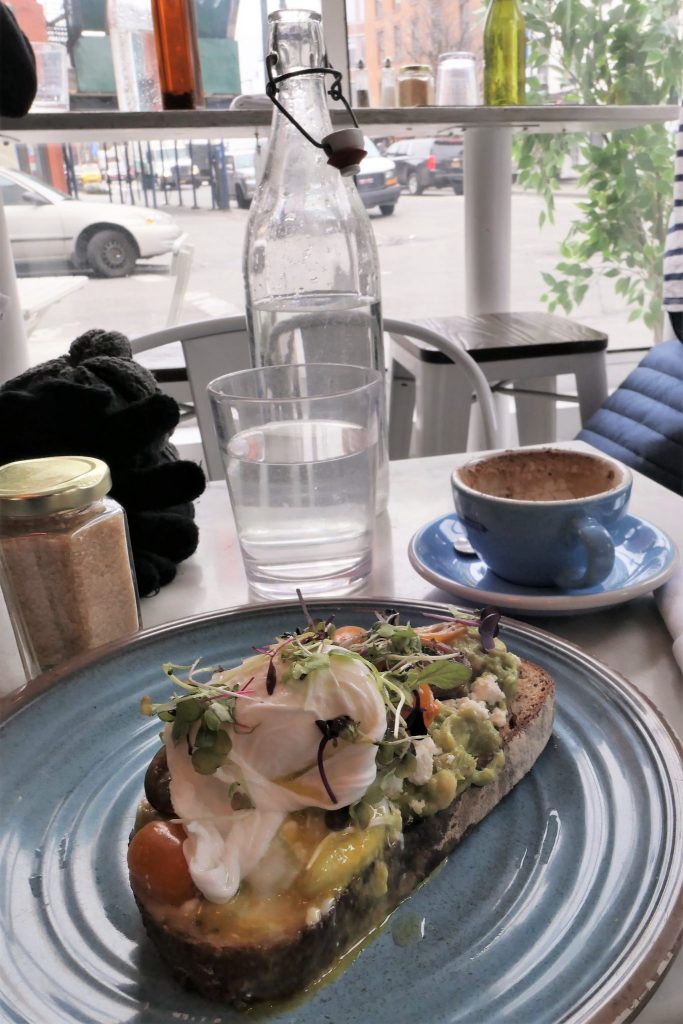 Do you love Australia? Try an Aussie style Cafe.  I am smash avo addicted, so I just had to try it. 😀 For brekkie, obviously have my favourite smashed avo with poached egg and beautiful coffee. 🙂 
The Bluestone Lane Cafe is a chain of Cafe shops located in various places in Manhattan. 
Locations – Financial District, Bryant Park, Midtown East, Astor Place, Garment District, Times Square, Nolita