Osaka is a large port city with a modern architecture, shopping centres and it is famous for a rich nightlife and delicious takoyaki.
I am going to tell where to find the most delicious one! Keep reading! 
The restaurants in Osaka are also famous for the best Ramen noodles and of course other delicious food. As I said before, Japan is a food paradise so you couldn't go wrong with your choice. 
In comparison to Tokyo, Osaka is a much more laid back. However, it is still a huge city with a variety of activities to do. 
Let's explore Osaka and visit the best districts!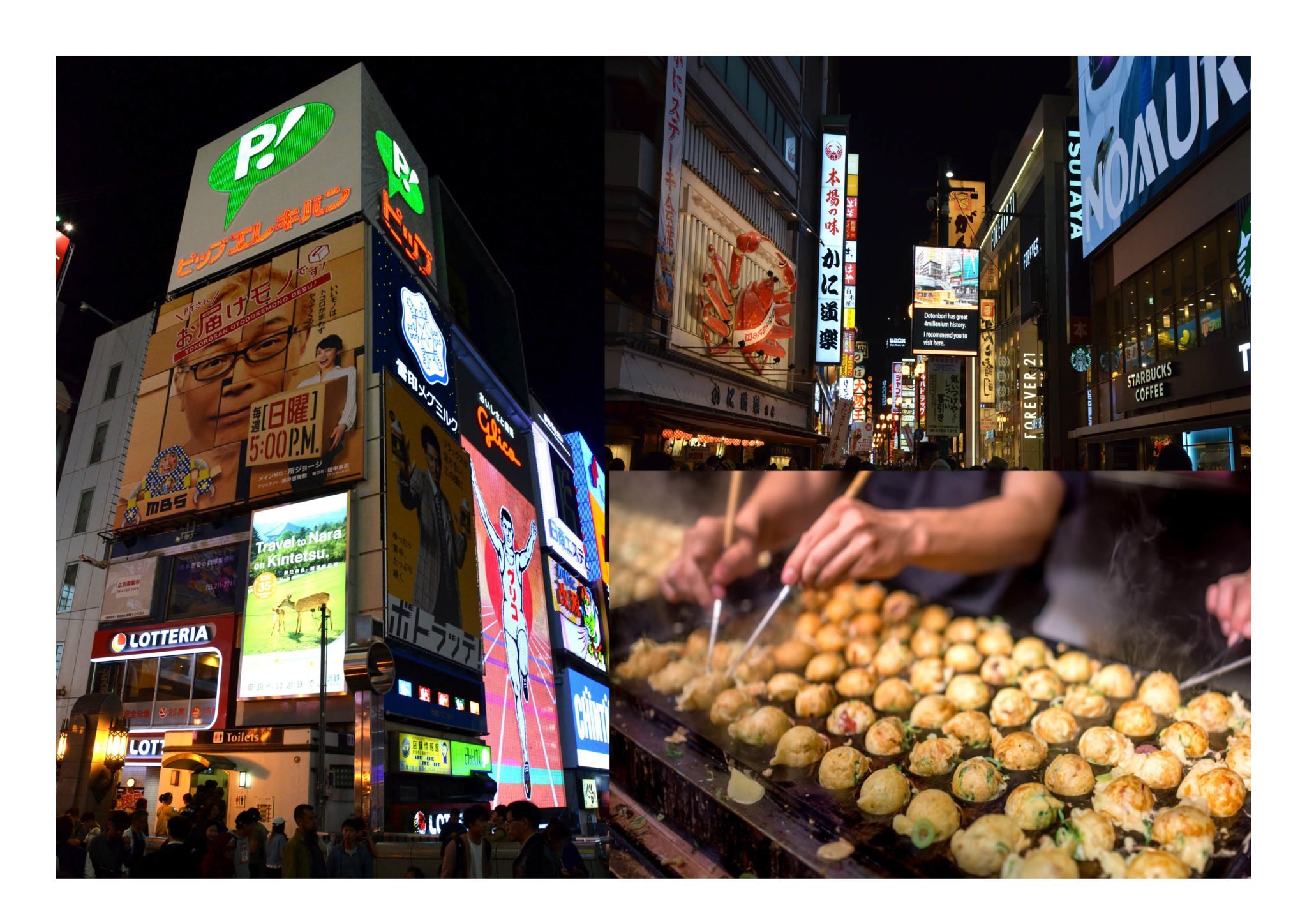 Dontobori is located 5 minutes walk from Namba station. It is the most famous suburb in Osaka which you shouldn't miss out! When visiting Dontobori at night you will enjoy the best atmosphere of colourful lights and the beautiful smell of grilled meat or other specialties from the best restaurants around. 
Just walking around makes you feel hungry that you will want to try everything! 
Have some Takoyaki here! It is a wheat-flour snack in a round shape filled with octopus, tempura scraps, green onion and pickled ginger served with fish flakes and beautiful Japanese mayonnaise on the top.
Shinsekai is located a walking distance from Shin-Imamiya Station. 
The place is famous for its Tsutenkaku Tower.
Osaka Aquarium is huge! It has a whale shark, dolphins, jellyfish, massive crabs and other sea creatures. 
You can see not only fish but also other animals such as capybaras or seals.
Opening hours are from 10am-8pm, The tickets cost 2300 YEN for Adult.
There is a beautiful scenery from the top of the Umeda Sky Building. You can find a lot of spots to sit directly next to a window and enjoy the magnificent view! 
Even if it can be a little bit crowded, it is possible to find a nice spot. 🙂 They also provide some drinks or ice-creams but just basic, nothing fancy and it is a bit pricey.