As you can see in the heading picture, the public transport is completely understandable! 😀
Upon first sight, you may feel a bit lost. Many signs are only in Japanese language and you need to search really carefully to find them in English! Don't get desperate though! 
The machines for tickets have an English option as well. I found tricky to find out how much it costs to get from one station to another by public transport as it is a bit confusing. I had to google it.
Let's check what types of tickets can you purchase.
Available for all foreigners.. It is better to buy it in advance as purchasing it in Japan you will pay a surcharge of 13%. This pass provides you unlimited travel on JR trains and Shinkansen except for Nozomi and Mizuho and some other express and local trains. Types – 7, 14 or 21 day.
If you plan to travel a lot and use Shinkansen then it willdefinitely pay off to purchase it. If you just stay in Tokyo though, you probably won't need it. It is required to take your passport with you for each travel. 
The benefit of the JR Rail Pass is also that you don't need to always purchase a ticket and be stressed that you don't have small coins or waste time by searching where do you need to go and calculating how much it costs. You just use it and go.
Recommended time for the online purchase is one month before you arrive in Japan to be sure that you have received the voucher which you will exchange in Japan. They will send it by post and it takes time.  Then you will activate the pass in Japan within 90 days from exchanging.
Classic paper ticket 
 Available in a ticket vending machine. You need to have some small cash.
Aimilar, can be also used as an electronic money in stores, parking lots, and coin lockers
Prepaid card for JR lines and metro, trains, buses, monorail Price is around $29 AUD, already loaded, deposit 500 Yen ($5,5 AUD), then just top up with min 1000 Yen ($ 11 AUD).
Tickets are paid when you get off. However, I recommend you to buy a one-day unlimited pass for 500 Yen (if you plan to visit more temples in one day and travel around, it is definitely worth it). 
You can buy it directly on a bus or in Kyoto City Bus Management Center and other selected area.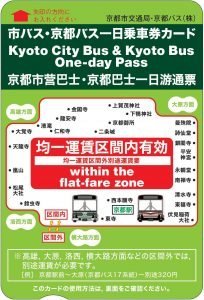 All Shinkansen bullet trains have a storage space for your luggage at the back of each wagon (behind the last seats). Have it in mind when you travel with a large luggage.
Purchasing food is available on a train but it is OVERPRICED. Buy food in advance at a kiosk in the station or somewhere else.