Los Angeles is a place of celebrities, film industry, shopping and entertainment. 
My first impression of the city was like­ "oh wow, it is so huge, the streets are massive, I feel like a small person in a huge world."
It was also a bit scary for me. When you walk on a massive street it is a completely different feeling than walking for example in narrow street in Europe or Asia. 
There are some suburbs that are better to avoid as it can be dangerous – a lot of criminality. I have stayed in Airbnb and heard from the locals which suburb is better to miss.
The example of dangerous places is around South L.A. – Huntington Park, Watts, some parts of East LA, Skid Row in Downtown, Beverly Hills (if you walk there on your own).
To get around can be very time-consuming as many places can be in distance of one hour from each other. 
For example, if you travel from Santa Monica to Hollywood it takes around 1hour drive or 1hour 20min by bus. Therefore it is good to make an itinerary ahead.
Sometimes it is easier to catch Uber or Uber Pool to share drive and save money.     

Top Places to Visit in Los Angeles
The Warner Bros studios tour is an incredible experience for all lovers of movie industry. 
They will take you to the backstage of the movie to see how the movies are filmed. 
You can see all the film secrets that are used in movies. For example background– such a fake bush, or rocks. 
You will learn how the sounds effects are created, you will see many costumes and unique furniture from movies and special lights to create an effect of a day or night.
If you love to learn about film industry then it is a perfect tour for you! 
You will see the houses from movie scenes and be able to go inside. In addition, you can walk on the streets with fake houses (they are just flat but they look realistic on a camera).
At the end the tour, they will take you to a Cafe Central Perk from TV series The Friends. I loved it! You can have a real coffee there as well. I was very excited and had a great time.
The price for a standard ticket is $69. The Warner bross tour is for 3 hours. 

Hollywood Tour – The House of Celebrities
While are you in LA take a Hollywood Tour. It is such a cool experience. 
An enthusiastic tour guide will take you on a car ride to see houses of celebrities. If you are lucky you might see celebrities in their house.
You will hear some stories about the houses as well. In addition, there will be a stop to see the Hollywood sign to take a photo. You will also see the walk of fame. 
I took a Starline Tour which costed $45. 
If you want a half day Hollywood and Beverly HIlls tour check it here.
Check out this very long street with embossed stars with names of your favourite actors, singers and other celebrities. Find your idol and take a picture. 
If you want to get a nice shot with your favourite star it could be tricky to find a spot without people. Especially, if you visit this place at the weekend.
Around Walk of Fame is a lot of souvenirs shops, Wax Museum, Chinese Theatre and lot of street entertainment.
Hollywood is usually alive at the weekends. If you visit it during week day you will feel like it is a normal street, quiet with some strange people around and shops with cheap souvenirs with low quality. 
As I said, weekends are usually crazy. The place is filled with people in costumes who will try to charge you if you take photo with them. Don't spend too much time on taking photos. 
If you want to have a cool photo with a famous person you can check Wax Museum. The Madame Tussauds wax museum is quite realistic and has 3 floors. I enjoyed the experience.
There are few other museums around. You can buy a combo ticket to visit a variety of museums. For example Hollywood Wax Museum offers also Guinness World Record Museum and Ripley, believe of not for $35.99. 
I have been to Madame Tussauds. The ticket costed around $20. 
If you go late at night you might save few dollars.
The beach by itself it is very huge, it is really massive! 
You can have a swim there but when I was there in August the water seemed quite cold!
This beach is more designed to have a nice walk, visit the Pier, see the end of Route 66 and have a nice lunch (there can be a long queue for famous American burgers though). 
Santa Monica is a place that you can remember from old American movies. When you walk there ,it will remind you Baywatch TV series. 
Near Santa Monica is Venice Beach. However, I have heard that it is not much safe in the evening.
There is also a shopping centre. It has a large variety of clothes and other things you might want.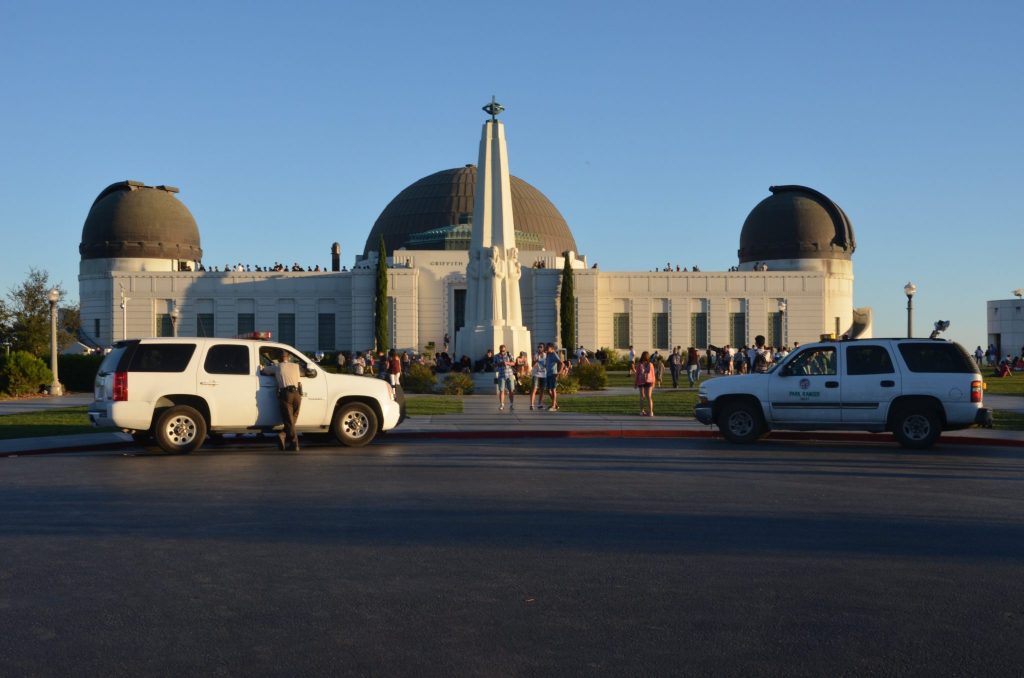 To get to the top you can catch a bus or walk up the hill. To walk there can take a lot of time though.  
Before you reach the top, don't forget on the famous Hollywood sign. You will be able to see only tiny little sign from far distance. It is not allowed to go closer. However, there is always a way how to get there. 🙂
The Griffith Observatory offers a free sunset walk and talk every month. Check their calendar.
The planetarium is very relaxing. It is perfect after a long day. You can just lie down and learn about stars. 
Opening hours are Tue – Fri – 10 am to 10pm and weekends 12pm to 10pm. The planetarium is closed on Mondays. The ticket costs $7.
I recommend visiting on sunset (be mindful that many people have similar idea).
There is a beautiful view of the night city to check. You can see a tiny city from there.
I haven't personally visited as I have already been to Universal Studios in Singapore . The photo is just from a walk around.
I would say that Universal Studios are mostly designed for families and couples than a solo trip. 
If I were a kid, I would be like in a heaven. 
It requires a whole day to enjoy it fully. If you are in LA for a short time think about if it is really on your top list or if you rather something want to do something else.