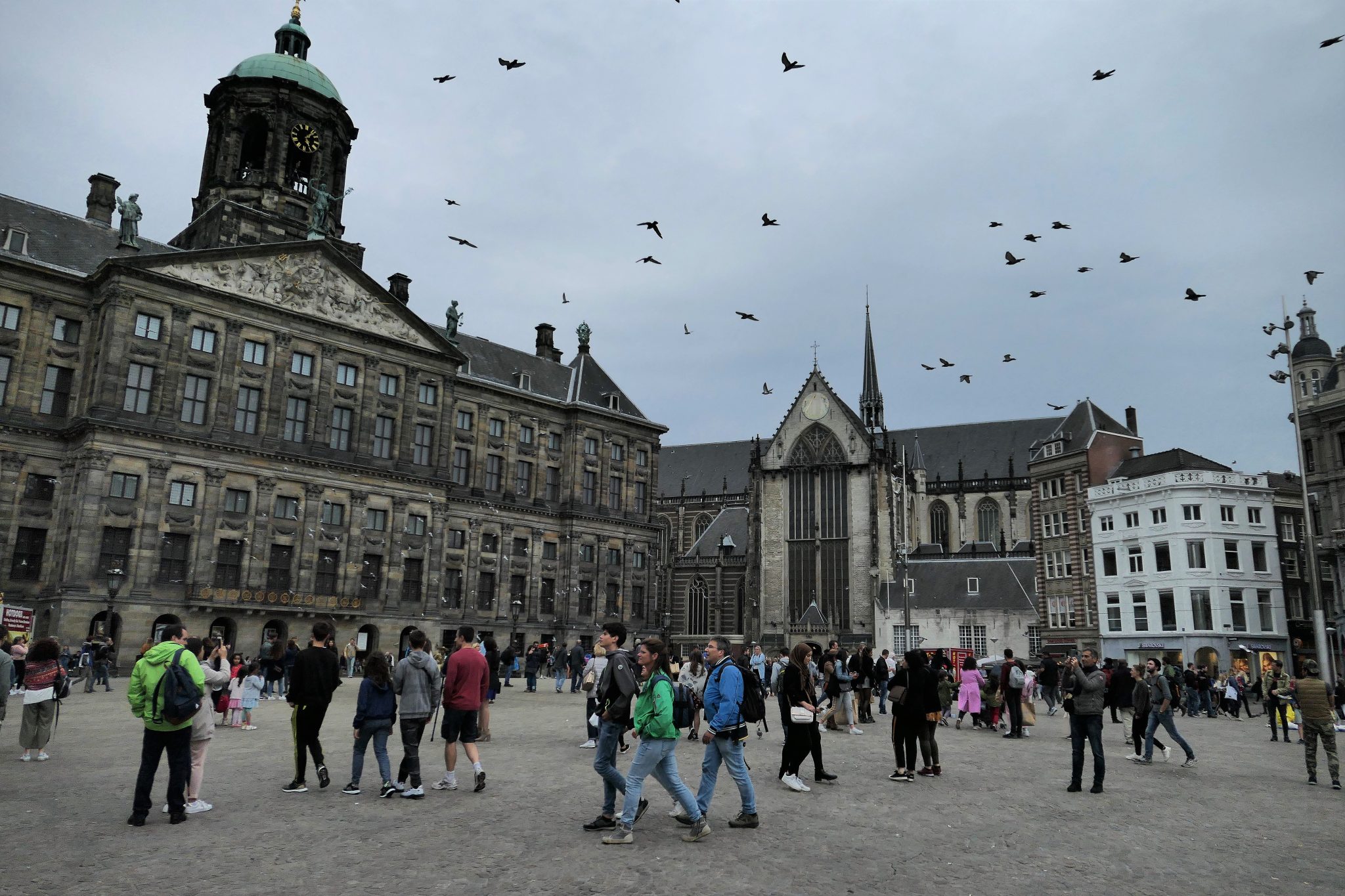 Amsterdam is connected with canals which create a charming atmosphere along with beautiful roofs of the houses which create a unique architecture along the river. 
When you walk along the canals, it might feel like cruising a labyrinth and you might get lost. The night canal view is very appealing.  
Let's take a boat ride, a perfect idea of how to spend your evening. 
The city is very quiet in the morning, shops open around 9-10 am but around 12 pm it starts to be very crowded that you will even bump into other people while walking on the street. The evening is alive as well.
The typical objects are bikes, bridges and beautiful architecture. The tulips season is in springtime (mid-April) otherwise you might just enjoy other flowers around. Don't forget on cheese which will follow you on each corner!
Most of the days in Amsterdam are cloudy. If you are lucky you might get a nice weather. For my short visit, the weather was perfect.
3 hours, 6 hours or the whole day. It is fun and very easy as there are no hills. The bike has a specific style and shape and can feel different from a standard bike. However, you will get used to it very quickly. It is a very cool experience. In Amsterdam, you don't need to wear a helmet and there are people on bicycles literally everywhere. 
Tip – rent a bike in the morning (but not too early as many shops are usually closed until at least 9 am). In the afternoon the city gets very crowded so that it makes the bike ride harder.
For some museums, you have to book your ticket online in order to be sure that you will get there the day you want to avoid a disappointment.
For example The Museum of Van Gogh – the tickets are available only online or in a machine for the next day. In order to not get upset think ahead. Near the Van Gogh Museum is a beautiful park to just sit and relax. It is great in summer.
It has been recommended to me but I didn't get chance to go there as I just decided to do something else as you can taste the cheese in many shops around Amsterdam. 
The cool thing about the Cheese museum is that you can make a cool professional photo with cheese. Apart from that, they are fully equipped with all stuff around cheese and you can learn about the production of cheese. 
If you stay nearby why not try it. In the photos, you can see one of the famous cheese shops which sell various Gouda cheeses with many flavours and styles and different ages with a free tasting. So delicious!
Other museums to see – Anne Frank, Rijksmuseum