Beautiful, lovely park with amazing walk along the harbour with a view of Opera House. You can see Cockatoos in the park, relax in a Cafe or just sit on the grass and read a book.
You can have a long walk along the river or explore the exotic plants and sculptures in the park. Royal Botanical Garden is a home of almost 9000 plant species. There is also a gallery inside and few cafes.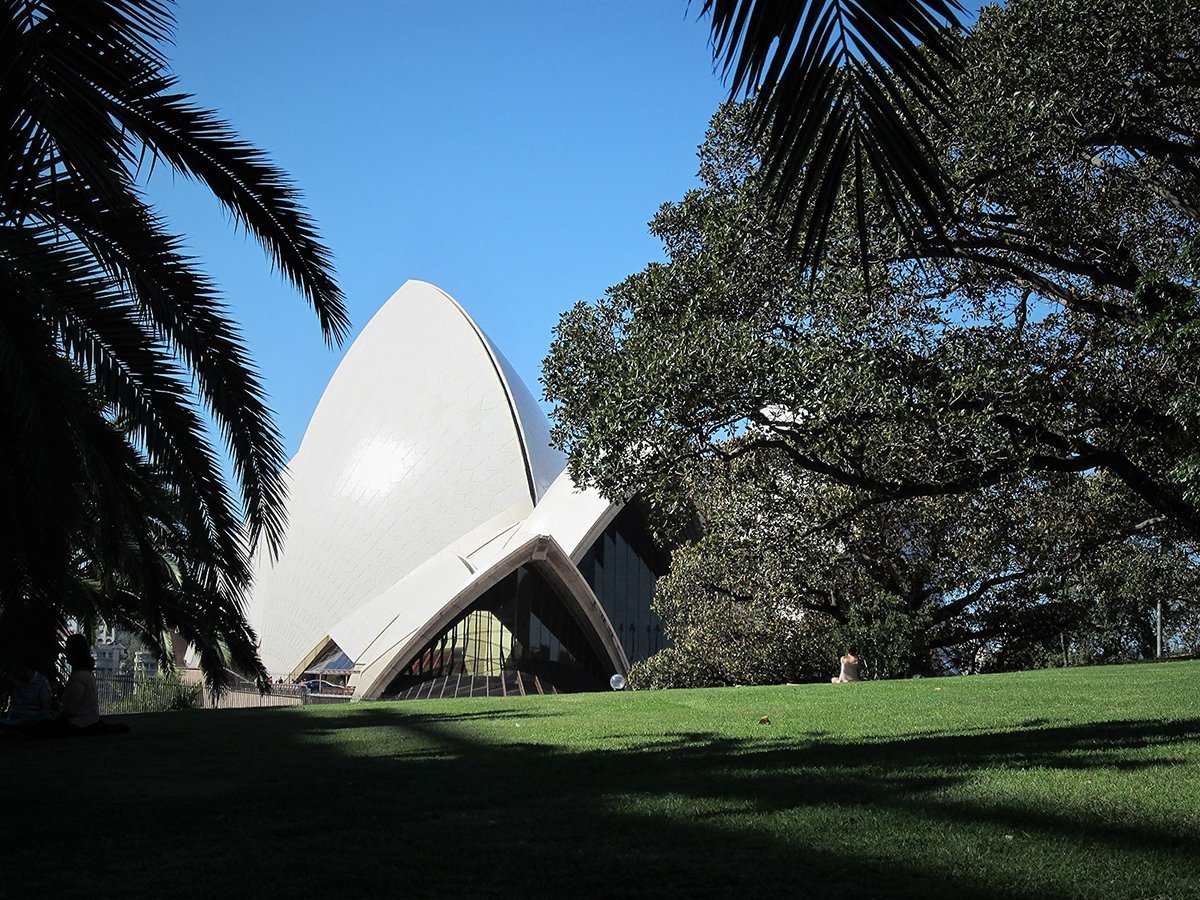 Lovely walk either afternoon or evening. However, I would say that evening is more romantic.  
The Harbour offers plenty of restaurants and bars. Some days can be crowded but other nights can be quiet. There is a mixture of vibes that you can get, depends on the time you get there. 
Be careful of the seagull! If you are just sitting in a harbour and having a snack they could come and grab your food! I remember myself sitting there and having a snack. Then I suddenly heard some noise behind me – it was a bird. He flew fast next to me and tried to take my bun! Birds can be a bit annoying in Australia.

The Queen Victoria Building
Famous shopping centre designed in Romanesque style, amazing decor. It feels so classy when you walk inside. 
For those, who like fancy and expensive clothes, it is perfect. There are also few cheap shops such as home decor and accessories in the underground level. 
There are few very nice cafes. Especially in the top level. A price for a small coffee (a cappuccino or a latte) is everywhere around Sydney similar – from around $3.50 AUD to $4.50 AUD. If you go to a fancy place it can cost $4.50-$5 AUD. The Cafe upstairs are more pricey.
I haven't personally tried yet but it is quite popular and huge. One day I will visit.Learn more about prices for the activities in Sydney in my article Sydney – money budget.
The busiest and the longest street in the heart of Sydney CBD.  There is plenty of amazing restaurants. In some of them, people are waiting in a long queue to get in which reminds me of Japan. This is happening especially over the weekend.
Update – not much common there days because of the Covid-19 situation.However, still pretty busy.
The variety of food in Sydney is huge – from plenty of Asian restaurants, especially nice Japanese ones (my favourite), Australian, American, Indian, African, European. 
What can you find on George Street? The famous The Queen Victoria Building, The World Square (a shopping area and food area) and nearby is Westfield Shopping Centre. On George Street, you can also find Events Cinemas and The Metro Theatre. 
Once you enter, it will remind you will get immersed into a feeling of a clever student who wants to learn more and study for hours in this library.
The quiet space just stimulates your brain to focus and let go of all the rush of the city. Those who love libraries will understand me. 
The gallery is located near the Botanical Garden. Time to time they have some free exhibitions to get some cultural experience.
Did you know that Hyde Park is the oldest public parkland in Australia? It is also listed on NSW Heritage Register. 
This large park is located in the central business district in Sydney. Very nice walk along with the trees, it is wide and open. You can sit on the bench and have a snack or just sit on the grass and enjoy the sun. 
Take some pictures of the fountain!
This beach is located in the Northern part of Sydney. To get there, you will catch a ferry from Circular Quay. It take 30 minutes to get there or 17 minutes by fast ferry. 
I would recommend spending at least half day there as it is far and the ferry is not cheap. However, you can get there by public transport as well. Take a bus from Wynyard station. There are a lot of small shops with clothes and souvenirs, restaurants and cafes. It reminds me Gold Coast in Queensland. 
Let's try some water sports – surfing or  snorkelling, bike tours, visit galleries or markets. Manly beach is like a mini town.
The beach is surrounded by cafes, restaurants and beach shops. There are few lovely coastal walks. You can take a walk from Bondi to Tamarama beach. Then you can also continue further to Coggee beach or Maroubra beach. 
You can also take another walk from Bondi to Rose Bay or start from there and end up in Bondi. If you are hungry and don't mind to pay a little extra, stop along the way in Bondi Iceberg with a beautiful view of the ocean! Don't forget to bring your ID otherwise, you cannot enter there. In Surf Live Surfing Clubs restaurants which are located on many beaches in Australia, you have to show your ID. Bondi iceberg usually opens from 11.00am during week days and 9am at the weekends.
Nearby is Bondi Junction (around 10-15 minutes by bus) which offers a huge shopping centre – Westfield. The Coles in Bondi Junction closes at midnight, so if you are hungry and don't want to spend much money in restaurants, buy some food there.
There is Harris Farm in Bondi Junction which is a shop that sells fresh delicious food – vegetables, fruits, fish, meat, amazing variety of cheese and ham, pastry, healthy drinks and more.